Douala
Armelle Tamo Sidje, 33, is a young female entrepreneur in Cameroon who uses banana tree trunks to produce biodegradable packaging for households and shops. With Cameroon producing over 300,000 tonnes of bananas each year, there's a guarantee that her project can save families from using plastic bags that continues to proliferate despite a 2014 ban.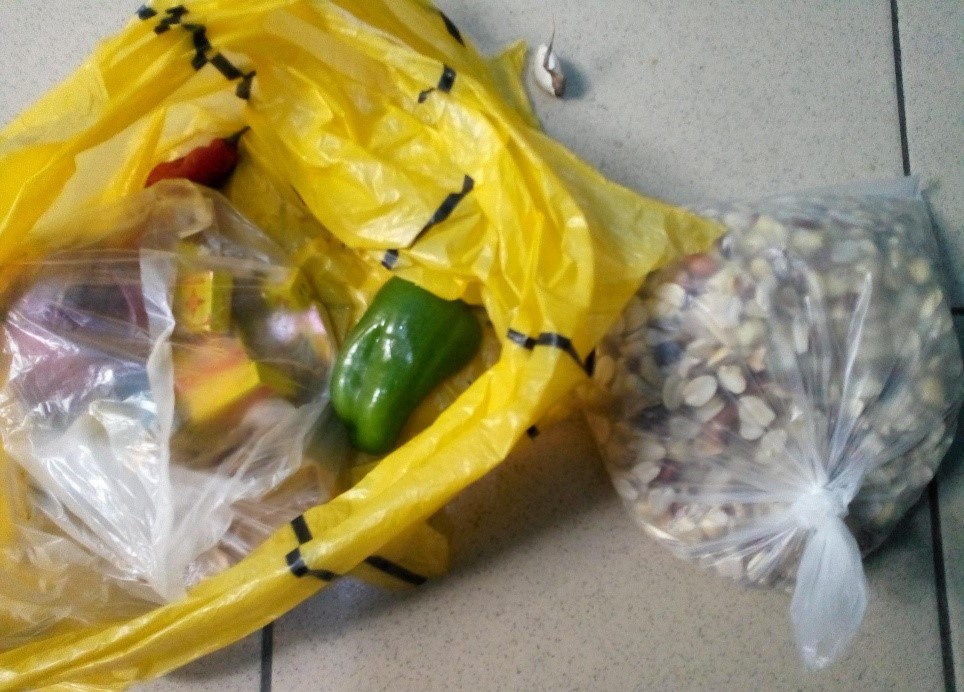 Armelle founded Products Relating to the Agricultural Sector (PRA) and with her team, they seek possible solutions to waste management and deforestation. With 7 million people dying each year due to air pollution with plastic waste contributing to tonnes of carbon dioxide, she decided to transform banana stems abandoned in the field during harvest to solve these problems. She does this by transforming the banana stems into biodegradable shopping bags, cardboard and paper rolls.
She and her team expect that this will go a long way to empower rural women, create wealth and be a source of inspiration to young Cameroonians while reducing waste at the same time.
"Cameroon has such an abundance of plantain by-products, it was an obvious solution for us. Bio packaging is stronger, more sustainable, and will soon be more affordable than traditional paper and plastic. It's a win-win for businesses and the environment, and we hope it inspires more innovations like it," she stated.
In October 2021, the joint decision by the Ministries of Trade and their Environment, Nature Protection counterparts, which was proposed in 2014 went into effect, regulating the manufacture, importation and marketing of non-biodegradable packaging in the country. It warns any manufacturers, importers or distributors against using non-biodegradable packaging. The decision further limits production and promotes recycling, reuse and other forms of recovery of waste from such packaging. It also requires importers to have an environmental permit for the waste to be traced back to its owner. The single-use plastics banned in Cameroon are mostly found in markets, supermarkets, bakeries, and schools.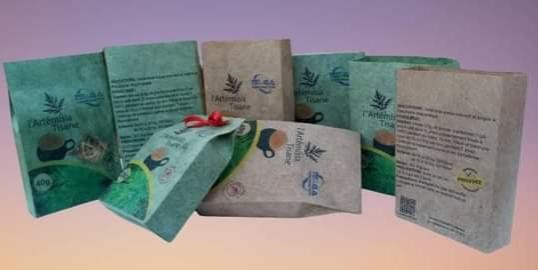 The packaging produced by Armelle cover-up purchases but it has not been able to help wrap local delicacies like fufu corn. When cooked, most women wrap it in plastic bags. With a looming plastic ban, many women are going back to wrapping food in banana leaves.

In local markets in Cameroon, several women are selling these leaves. However, the decision to ban plastics in Cameroon was taken in the presence of a few women, whereas women make up a majority of plastic packaging users in Cameroon. Just 33 percent of women make up the country's Parliament. It is also reflected in Ministries mostly dominated by men. Most women don't understand the ban and why it should be implemented. This is the case of 48-year-old Judith Anougu, who sells tomatoes and local spices at PK14 market in the capital Douala. She serves customers in banned plastic bags. She has been doing this business since she was eight. Judith says the single-used plastics she buys are either black or white in small quantities that cost 300 FCFA (0.51USD) respectively.
"We just want what is cheap. When those boys who sell pass around here, they suggest different types of qualities. We go for cheaper ones that come from Nigeria", revealed Judith.
The role of women
Although the Ministry of Environment has carried out some operations to stop the circulation of these plastic papers, some gender activists believe the government approach was wrong from the beginning. To Eileen Manka, a member of the South West, North West Women Task Force (SNWOT), an active female group in Cameroon, if women were involved from the bottom-top approach in the implementation of the ban, it could have produced comparate results.
To other activists, most policies made in the absence of women at both conception and implementation phases, are bound to fail as women make up over 13.8 million of the population comparatorively.
"When women are part of a decision-making process, they definitely will be positive changes. If a woman has to be part of any policy, she will ensure that any policy that she puts her name to, will suit her needs which will also favour other women," said Manka Eileen.
"For example, women use plastics to wrap fufu corn. I remember some years back, a decision was taken to ban those plastic bags, especially the production of those papers in Cameroon, so it made it difficult for women to have plastic bags to wrap fufu corn. But you will realise that those plastic bags were trafficked from Nigeria to Cameroon and immediately flooded the market. The women never stopped using plastic bags despite the ban. You realise that the use of plastic bags has gone up," she continued.
The Sustainable Run for Development (Surudev), a non-profit organisation that has been working with the government to implement the ban says much is still to be done and local initiatives are encouraged. Its executive director, Kari Jackson said the ban brought more plastics to Cameroon than before through the black market. He regrets that these plastics have underlying consequences on the environment if not properly handled. Mr Kari agrees women should have been consulted for better output on the plastic ban.
"The approach used to fight plastic pollution should have been the bottom-top. This approach is needed for people to understand the dangers of these plastics. I come from an area where corn fufu is eaten hot and packaged in plastics. Many fail to know that packaging in leaves will give you more flavour or make it more nutritious and healthy," he stressed.
"Plastics are made of chemicals that at high temperatures begin to seep into the food you are supposed to eat. People have to understand that packaging first of all in plastics is hazardous to their health," warned the environmentalist.
According to statistics from the Ministry of Environment and Nature Protection, plastic waste represents about 10% of the six million tonnes of waste produced every day on Cameroonian soil.
The Forest Campaign Manager of Greenpeace Africa, Ranece Jovial Ndjeudja thinks the Ministry of Environment must be more rigorous in enforcing the law banning the use of plastic in Cameroon.
"The Ministry of the Environment must be more rigorous in enforcing the law banning the use of plastic bags in Cameroon. It has the necessary means to enforce a strict plastic ban towards a cleaner and healthy plastic-free future," said Ranece.
Pollution
These single-use plastics are sometimes used to start fires in Cameroonian households. If it is not disposed of by the waste management company, HYSACAM, people resort to burning plastic trash. It is common to see fire set on waste in Douala. However, scientists say the population is at risk due to plastic pollution.
Professor Bertrand Mbatchou who led research on air pollution in households under the project Clean Air Africa highlighted smoke as a key pollution source in homes. Some of the smoke comes from toxic fires such as plastic burns. The medic says households stand a risk of getting a stroke, heart diseases, lung cancer, and chronic respiratory diseases as a result of air pollution.
The United Nations Environment Programme(UNEP) states that over 7 billion of the 9.2 billion tonnes of plastic produced from 1950-to 2017 became plastic waste, ending up in landfills or dumped. UNEP warns that "plastic pollution can alter habitats and natural processes, reducing ecosystems' ability to adapt to climate change, directly affecting millions of people's livelihoods, food production capabilities and social well-being.
Last year September, the government of Cameroon destroyed some 42 tonnes of non-biodegradable plastics seized in Garoua, one of the Northern regions of Cameroon. Out of six million tonnes of waste collected in Cameroon each year, 600,000 tonnes are made up of plastic, which often migrates to the river banks, posing a threat to marine life.
This is because plastic bags are resistant to many natural processes of degradation which makes them harmful to the environment. Even when they break down-a process known as photodegradation, chemical and harmful substances get released into the highly toxic environment. These toxic pollutants cause land and water pollution. Open burning of plastic waste which is common in many African countries is a major source of air pollution. Burning plastics releases black carbon that has a global warming potential up to 5,000 times greater than carbon dioxide according to UNEP.
World leaders and Ministers of Environment last month met in Nairobi, Kenya for the 5th United Nations Environment Assembly(UNEA-5) and endorsed a resolution to end plastic pollution and forge an internationally binding agreement by 2024.
The President of UNEA5, Espen Barth Eide during the session, said plastic pollution had grown into an epidemic and they are expecting to officially stay on track for a cure.
Inger Andersen, Executive Director of UNEP stated the organisation will work with any willing government and business across the value chain to shift away from single-use plastics, as well as to mobilise private finance and remove barriers to investments in research and a new circular economy.
There's therefore hope for alternatives to plastics such as Armelle Sidje's project in an attempt to reduce pollution. This can only be possible if women like her are involved
This article is part of the African Women in Media (AWiM)/UNEP Africa Environment Journalism Programme